There are five principles I live my life by. (Not in this order. :P)
1. You can never have too many peas. (Depending on what you're making, of course.)
2. Never leave the house without your keys and your iPod (you never know when you'll need music).
3. Quoting is always fun, even if you're the only one that gets it. (It's awesome when people DO get it; the rest of the time, the weird looks tend to make up for it.)
4. Always be accepting of other people; you never know how you might come across to others, so you might need to hope that they'll accept you in return. (But really I like to be accepting regardless. Except in regards to absolute bitches, or haters - I can't like them.)
5. Always try to be hopeful, no matter what. Solen says it best: "Perhaps there are times when it seems there is no alternative to surrender, but while we breathe, there is hope." (Darksong)
And while I'm at it:
"We have to have hope. It is the least we can do." (Elspeth, Ashling, 314-5)
"It's only hopeless when we've given up hope." (Elspeth, Ashling, 315)
"I am a fool to hope, I know, but that is one of the few saving graces of human beings." (William, Scatterlings, 43)
Also, I thought this was relevant, given I haven't posted in so long: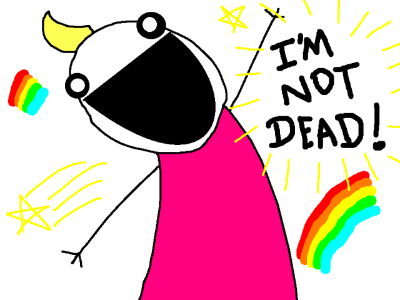 From here -
http://hyperboleandahalf.blogspot.com/
I love the ALOT, especially alot of fire.
http://hyperboleandahalf.blogspot.com/2010/04/alot-is-better-than-you-at-everything.html